October 2016
10th
Oak Creek Library Teen Week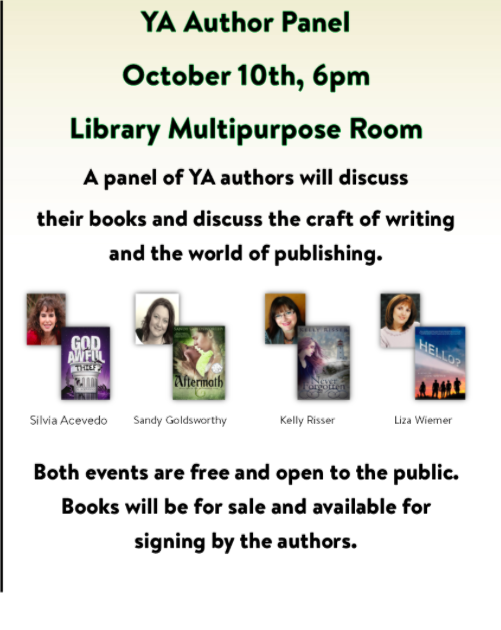 28th
Wisconsin Library Association Annual Conference
The Power of the Teen Voice
Track: Building Collections/Back to the Book
Melissa Gorzelanczyk, Green Bay, Liza Wiemer, Milwaukee
Wisconsin authors Brittany Cavallaro (A Study in Charlotte), Melissa Gorzelanczyk (Arrows) and Liza Wiemer (Hello?) will share how YA novels provide an outlet to explore topics such as diversity, family dynamics, relationships, sexuality, coping with loss and grief, both through fantasy and contemporary fiction. The authors will give librarians specific tools to help readers discover new books based on key words and interests.
November 2016
16th
East Branch Library – NaNoWrimo Event: WHO ARE YOUR CHARACTERS? Bring them to life with this hands-on workshop, dig deeper and reveal their deepest, darkest secrets.
2017
February 2017
2nd 
Westosha Central High School
9th
WSRA—SCBWI-Wisconsin
10th
Lake Zurich High School's Writers Day
16th
Anderson High School
17th
Tom Glenn High School
22nd
Pflugerville High School
24th
Arrowhead High School
March 2017
2nd
Exposure to Creativity Day, Door County
5th
Write On Door County – Workshop: Writing a YA Novel
19th
Minneapolis Girl Scouts of America
20th
WEMTA conference with Melissa Gorzelanczyk, author of Arrows: https://wemta17.sched.com/event/9Snw/the-power-of-the-teen-voice
April 2017
3rd
Altmar-Parish-Williamstown Jr/Sr High School, Parish, NY
4th
The River's End Bookstore, Oswego, NY
5th
30th
UntitledTown Book and Author Festival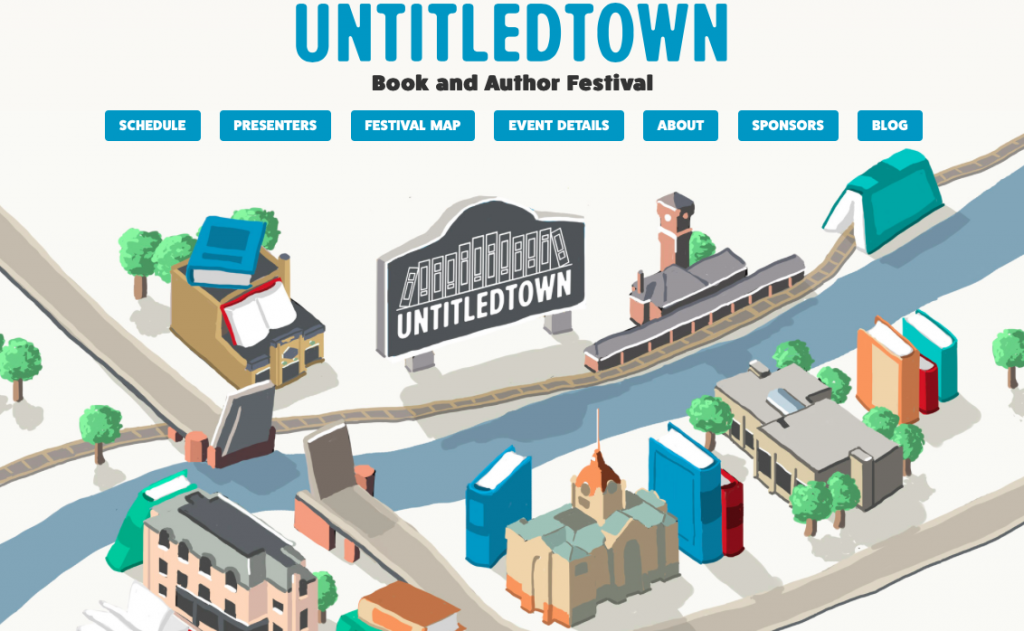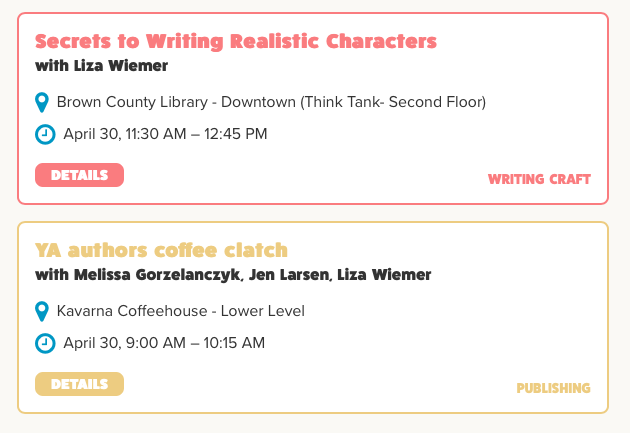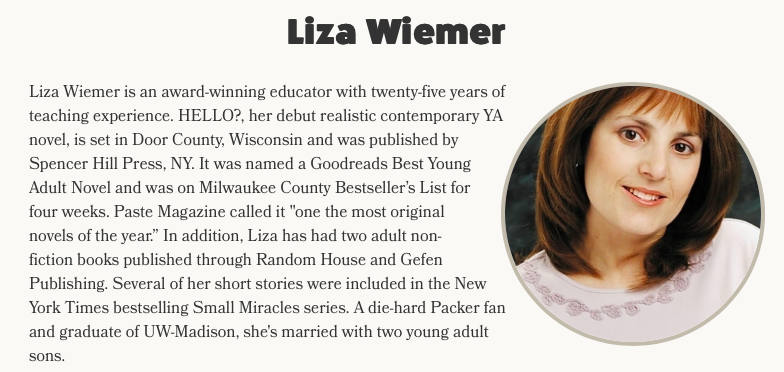 May 2017

23rd
Waterford Union High School
June 2017
2nd
Oshkosh Public Library
PREVIOUS EVENTS:
October 2015:
28th — We're celebrating Hello?'s publication a little early at Boswell Book Company! Come join us!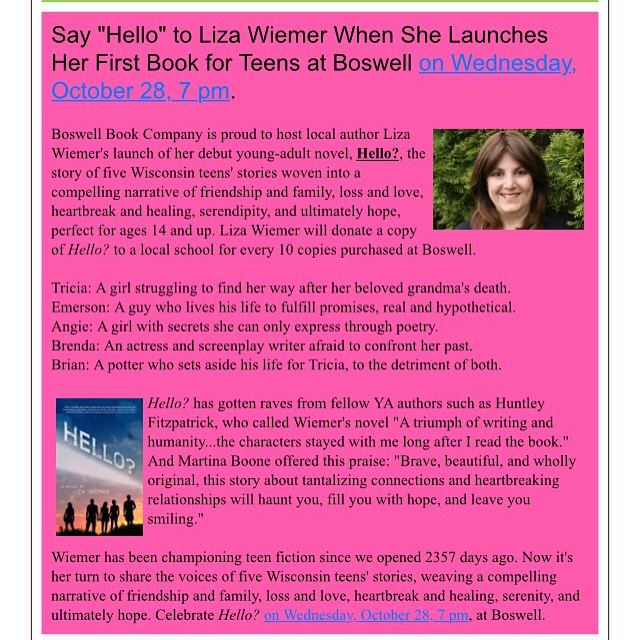 Click here to see a 15 second video of the launch party: IMG_3208-4
November 2015:
8-13th: Door County, Wisconsin
Monday, November 9th—Washington Island High School
Tuesday, November 10th—Gibraltar High School
Wednesday, November 11th—Sturgeon Bay High School
Thursday, November 12th—Sevastopol High School
Friday, November 13th—Southern Door High School
Green Bay Gazette Interview
17th:
Day—Middleton High School
Night—Whitefish Bay Library, NaNoWrimo event: "Writing Characters that Leap Off the Page."
19th: 
Day—East Troy Community High School
Evening—Book Appetit Book Club
23rd: 
Milwaukee Public Central Library,  NaNoWrimo event: "Writing Characters that Leap Off the Page."
December 2015
1st:
Amos Alonzo Stagg High School, Palos Hills, IL
8th
Waterford Union High School
14th: 
Clinton High School
January 2016
20th
USM
21st
USM – River Hills
February 2016
3rd
Alamo Heights High School, TX
4th
Bowie High School, Austin, TX
5th
Anderson High School, TX
8th
AHHS, San Antonio, TX
9th
Westlake High School, Austin, TX
12th 
Whitefish Bay High School
18th
Arrowhead High School
24th
Amos Alonzo Stagg High School, IL
March 2016
1st-3rd:
Kewaunee Schools
9th:
Menomonee Falls High School
10th
The Morning Blend, TMJ4
10th
Women & Children First, Chicago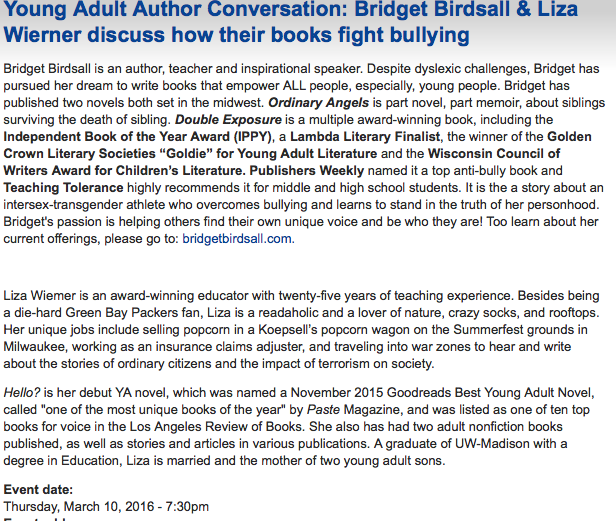 13th
Bethesda Library, MD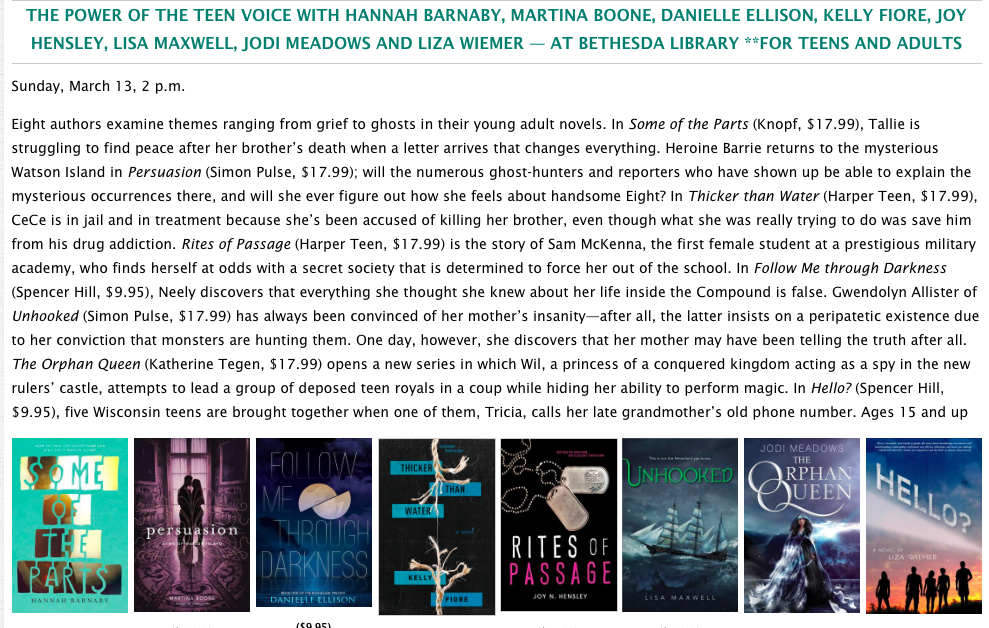 14th
Chantilly Library, VA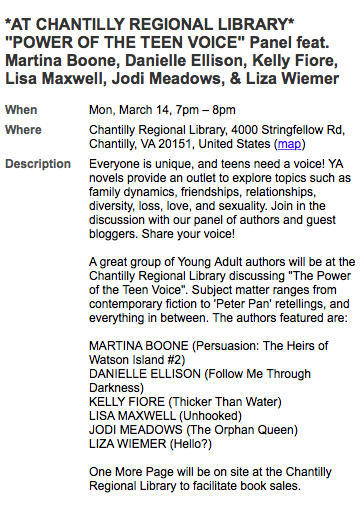 15th
Churchill High School
18th
Montgomery Blair High School
20th
Books of Wonder, New York Teen Author Festival signing, NYC
22nd
Wilmington, DE JCC Young Adult Event
23rd
Wilmington High School
April 2016
5th
Arrowhead High School
8th
Stoughton High School
10th
WEMTA Author Panel/Fair
18th
Hartford Union High School
19th
Peotone High School
May 2016
5th
Evansville High School
6th
Nicolet High School
9-13th
Chicago/BEA (I'm not signing this year, but I look forward to seeing you!)
15th
Epic event for all five Door County High Schools & a select number of Nicolet High School students: Life Imitates Art: Walking in the footsteps of Hello? characters on Washington Island
18th
Frank L. Weyenberg Library of Mequon-Thienesville with Jennifer Armentrout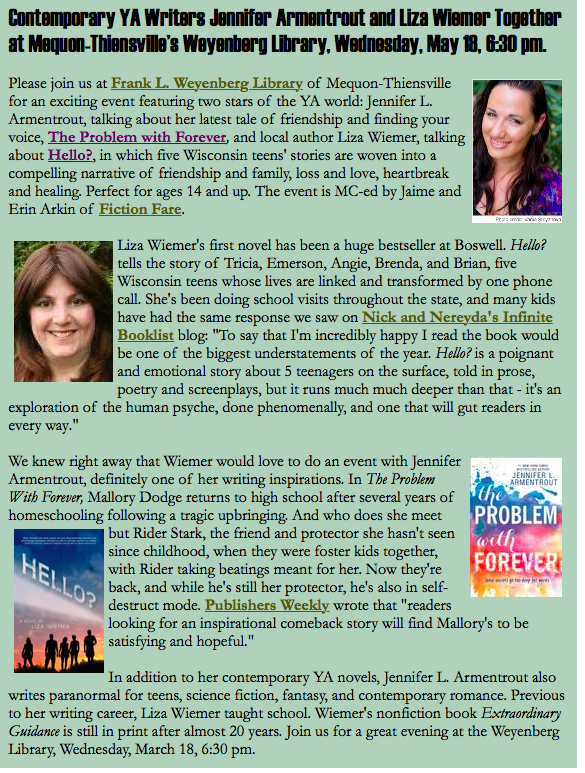 19th
Nicolet High School
29th
Write On Door County
June 2016
20-24
Teen Writing Workshop
July 2016
5th
Jefferson Street Books, Sturgeon Bay
6th:
Fair Isle Bookstore, Washington Island